Did Pm Imran Khan really Unfollowed everyone on Twitter, Instagram?
Pakistani people were quick to notice on Monday that Prime Minister Imran Khan no longer follows anyone on Twitter. 
If it's true, and not just a Twitter and Instagram glitch, this infers that PM Imran Khan has unfollowed everyone on the micro-blogging website.
People are expressing their all kinds of reactions, changing from showing serious concern to making sarcastic and hilarious comments.
Here are some tweets of people:
Bro @ImranKhanPTI unfollowed @Jemima_Khan?!?!

— azmar khan (@khannazmar) December 7, 2020
Even though @ImranKhanPTI unfollowed everyone but I am sure something inside Jemima just broke. 💔

— Shaz Malik (@shaz_Insafiyan) December 7, 2020
Imran Khan visited Nawaz Sharif's @NawazSharifMNS twitter timeline, realised NS does not follow anybody. Got angry that this might reflect poorly on him. Went back to his own timeline and unfollowed all his MNAs and ex-wife. 😂😂😋

— A.Kiyani (@Andromeda_JY) December 7, 2020
Users made light hearted jokes someone compares Pm Khan with singer Atif Aslam
@ImranKhanPTI inspired by @itsaadee on twitter..unfollow all 😱😱.@adeel_azhar @kalson @kashif_baig pic.twitter.com/aQNbVudbyT

— Nawaidcric (@Nawaidkhanpti) December 7, 2020
Imran Khan's official Twitter account
On the other hand, PM Imran Khan is following only two accounts from his official Instagram account.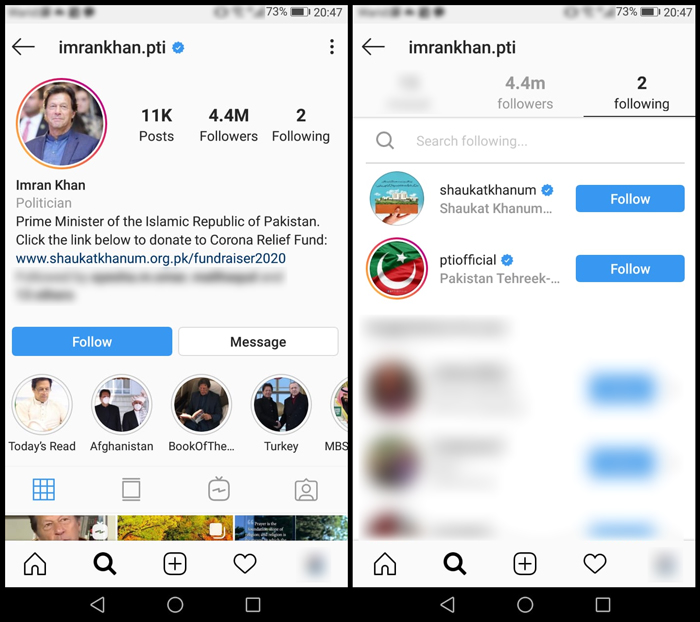 These include the verified accounts of the PTI and the Shaukat Khanum Memorial Cancer Hospital and Research Centre (SKMCH&RC).
Adsense 300 x 250
---