Karachi: Micro-Smart Lockdown Foisted In Three Areas Of District Central
A micro-smart lockdown has been foisted in three areas of Karachi's district central, a notification issued in this regard said.
The lockdown in these areas will be effective from March 17 (Wednesday) for the upcoming 14 days, until March 31.
The notification further stated that the lockdown comes into effect, including nine union councils (UCs) of North Karachi, North Nazimabad, and Gulberg.
The notification read, "In pursuance of the recommendations of the district health officer regarding the emerging hotspots with respect to the spread of COVID-19 and powers conferred in Section 3(3) of the Sindh Epidemic diseases Act 2014, it is hereby ordered that a micro smart lockdown is to be enforced in the specified areas for a period of two weeks."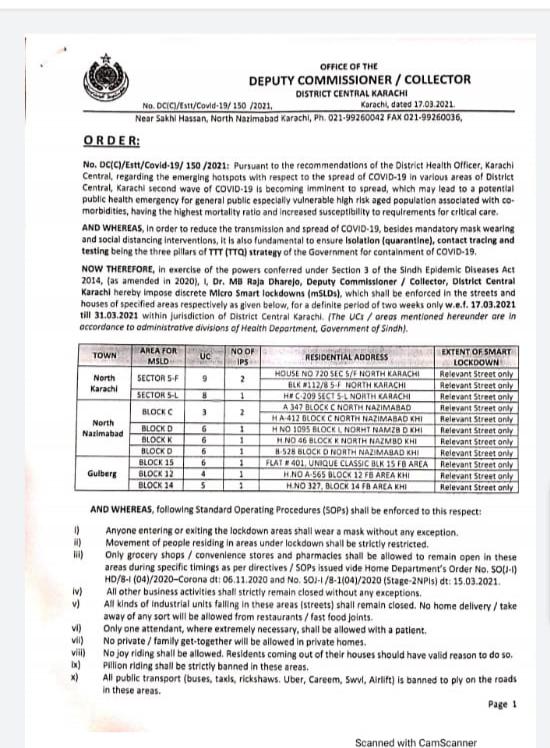 Earlier in the day, Peshawar has imposed a micro smart lockdown in different areas of the city following the surge in COVID-19 cases.
The district administration in this regard said that micro-smart lockdown is being executed only in streets and small areas. The unnecessary movement has been outlawed in the areas where lockdown has been forced.
Only grocery stores, medical stores, and Tandoors will remain open in the affected areas. Moreover, wedding halls and restaurants will be completely sealed.
Previously, Sindh had announced a smart lockdown with immediate effect till April 15th, 2021.
According to the notification, amusement parks will be closed by 6 pm.
Moreover, indoor weddings will not be allowed. Only outdoor weddings and events will be allowed with the upper limit of 300 persons till 10 pm. Events will be held under defined SOPs.
Indoor dining will not be allowed. Only outdoor dinings, takeaways, and home delivery will be allowed.
Apart from that, indoor gyms, indoor sports facilities, cinemas, theatres, and shrines will remain closed.
People have been directed to wear the mask and follow social distancing at all public and private offices.
Work from home will be allowed with 50% of the staff in public/private offices.
Pakistan Coronavirus Situation
The ongoing third wave of the deadly Coronavirus pandemic is quite active in Pakistan as 384 new cases surfaced when 10,590 tests were carried out in Sindh.
According to Sindh Chief Minister Murad Ali Shah, the total fatalities by COVID-19 have reached 4,469 with a death rate of 1.7%.
Overall 10,590 samples were tested and 384 cases detected, which constituted a 3.6% current detection rate, he said.
In the last 24 hours 196 patients recovered. Whereas, so far 3,172,228 tests have been conducted in which 262,206 positive cases were diagnosed and 253,237 patients have recovered, which is 96.6%, added CM Sindh.
Adsense 300 x 250
---