Government Issues Notification Of Reshuffle In Federal Cabinet
A notification issued by the cabinet division cited the removal of Hammad Azhar as finance minister and given the ministry to Shaukat Tarin.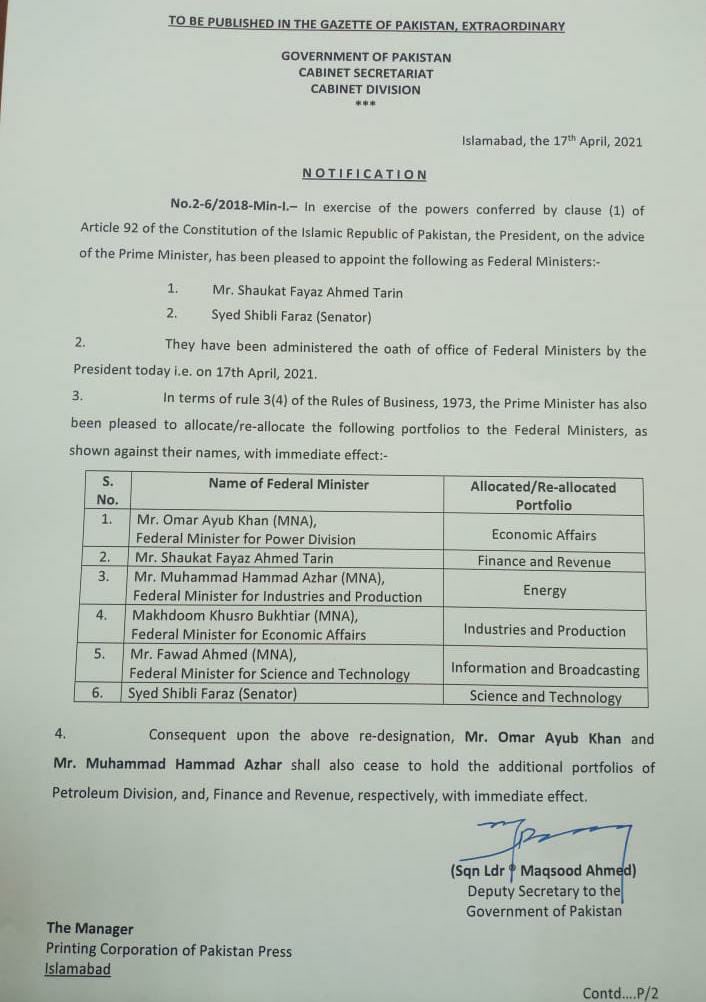 The Pakistan Tehreek-e-Insaf (PTI) government has appointed a fourth finance minister in almost three and a half years.
In addition, as a result of the recent reshuffle, Hamad Azhar has been given the portfolio of the Ministry of Energy while Fawad Chaudhry has been given the portfolio of the Ministry of Information and Broadcasting.
Apart from the Ministry of Finance, the portfolio of Minister of Industry and Production has also been withdrawn from Hamad Azhar and Khusro Bakhtiar has been made Minister of Industry and Production.
On the other hand, Fawad Chaudhry also said in a Twitter message that the Prime Minister has made changes in the cabinet and also informed about their details.
وزیر اعظم عمران خان نے کابینہ میں تبدیلیاں کی ہیں، ان تبدیلیوں کی تفصیل لف ہے۔ pic.twitter.com/Rld1raSAmt

— Ch Fawad Hussain (@fawadchaudhry) April 16, 2021
It may be recalled that reports of reshuffle in the cabinet had been circulating for a long time and yesterday Senator Faisal Javed in a Twitter message also congratulated Fawad Chaudhry on getting the portfolio of Information Ministry.
Asad Umar, Hafeez Sheikh and Hamad Azhar have previously held the post of Finance Minister during the PTI government, the shortest of which fell to Hamad Azhar, who was appointed Finance Minister on March 29.
Interestingly, the post of Finance Minister was handed over from Asad Umar to Abdul Hafeez Sheikh, who was the Finance Minister under former President Pervez Musharraf and also the Finance Minister during the PPP government.
Adsence 300X250
---