PIA to start 35 weekly flights between Pakistan and Saudi Arabia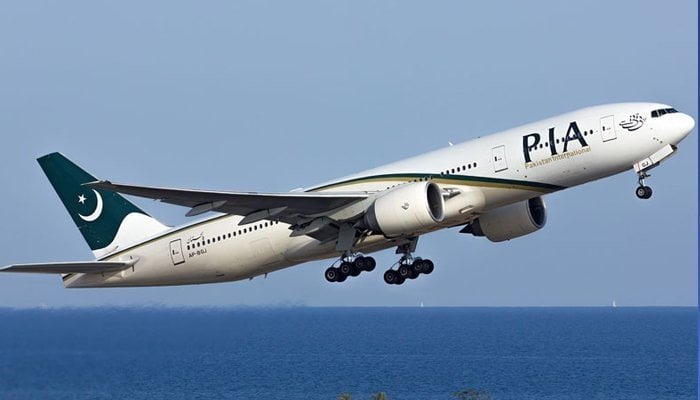 ISLAMABAD: Pakistan International Airlines (PIA) on Saturday, announced commencing direct flights between Pakistan and Saudi Arabia.
According to the flight schedule released by PIA, the national flag carrier will operate 35 weekly flights to Saudi Arabia from December 1, Bol News.
The PIA spokesman said that flights would depart from Karachi, Lahore, Multan, Islamabad and Peshawar to Jeddah, Madinah, Riyadh, Dammam and al Qassim.
Earlier, Saudi Arabia had announced to allow passengers from six countries to directly enter the kingdom.
According to a tweet from the Saudi Press Agency, the kingdom will let indirect passengers from Pakistan, India, Brazil, Vietnam, Egypt and Indonesia from December 1, 2021.
#وزارة_الداخلية : السماح بالقدوم المباشر إلى المملكة من (إندونيسيا، باكستان، البرازيل، فيتنام، مصر، الهند)، دون الحاجة إلى قضاء (14) يوماً خارجها، على أن يتم تطبيق الحجر الصحي المؤسسي عليهم 5 أيام، بغض النظر عن حالة تحصينهم خارج المملكة، وذلك بدء من الأربعاء القادم.#واس_عام pic.twitter.com/Dq8IepFSX6

— واس العام (@SPAregions) November 25, 2021
"Travelers, regardless of their vaccination status, will no longer need to quarantine for 14 days in a third country. However, they will still need to quarantine for five days within the country after they land".
Also Read: Fawad Chaudhry says Pakistan will receive $3b from Saudi Arabia this week
The news regarding the direct entry of Pakistani citizens was also shared by Information Minister Fawad Chaudhry.
The information minister shared the news about direct entry while confirming that negotiations between the government and petroleum dealers ended successfully.
تین اچھی خبریں 1) پٹرولیم ڈیلرز ایسوسیشن ایشن نے ہڑتال ختم کر دی 2) سعودی عرب نے پاکستان سے براہ راست فلائٹس شروع کرنے کا اعلان کر دیا 3) سعودی عرب سے تین ارب ڈالر کی ٹرانسفر میں تمام قانونی معاملات طے ہوگئے اور یہ ڈالر اس ہفتے پاکستان کو مل جائینگے

— Ch Fawad Hussain (@fawadchaudhry) November 25, 2021
---