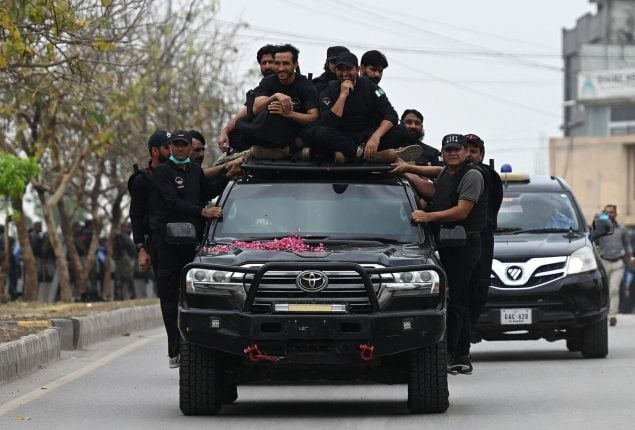 Warrants also issued for Farrukh Habib, Shibli Faraz, and Hassan Niazi.
Court summoned all entities in personal capacity on next hearing.
Leaders were booked in terror cases linked to vandalism outside judicial complex.
The Anti-Terrorism Court (ATC) in Islamabad issued bailable arrest warrants for Pakistan Tehreek-e-Insaf chairman and other leaders in cases pertaining to vandalism outside judicial complex.
These warrants are issued in three separate cases concerning the vandalism that took place outside the judicial complex during PTI chief's court appearance.
During the proceedings, ATC Judge Abul Hasnat presided over the cases, with the legal representation of PTI chairman being present in court.
Initially, the lawyer submitted a plea for exemption, explaining the necessity of their appearance in the Lahore High Court.
However, Judge ATC Abul Hasnat emphasized the requirement for PTI chairman's presence in the ongoing proceedings, highlighting its significance.
Consequently, the court issued bailable warrants for former prime minister and prominent PTI leaders Farrukh Habib, Shibli Faraz, and Hassan Niazi in relation to the case involving the attack on the judicial complex.
The court has instructed all the accused, including PTI chairman, to personally appear before the court on July 19 to address the charges against them.
The hearing for the case has been adjourned until July 19.
It should be noted that two cases were filed at Ramna Police Station and one at Golra Police Station, accusing the former PM and other prominent figures of leading mobs and inciting people to harm and vandalize public property within the Judicial Complex.
Advertisement
Read More News On
End of Article