The total number of confirmed Coronavirus cases is 2,826,869. Out of these, the active cases are 1,831,593 over 196,981 have died whereas 798,295 people have recovered.
Keep visiting BOL News to find Coronavirus latest updates worldwide regarding the statistics, lockdown measures, conditions, and other information.
Coronavirus Lockdown Updates: As the Covid-19 Coronavirus pandemic spreads around the world, a number of countries have taken measures to slow its operations. From social distancing to total lockdowns and curfews, people across the globe are having to adapt to a new way of life.
Countries which have lockdowns in place for a few weeks, consider how best to ease restrictions to get their economies moving again. Getting it wrong could lead to further outbreaks and new restrictions could be catastrophic for health services and economies.
India, China, France, Italy, New Zealand, Poland, and the UK have implemented the world's largest and most restrictive mass quarantines.
See the chart below to see the number of cases, recoveries, and deaths in Pakistan.
| STATION | TOTAL CASE | ACTIVE CASE | RECOVERED | DEATH |
| --- | --- | --- | --- | --- |
| SINDH | 4232 | 3098 | 772 | 78 |
| PUNJAB | 5326 | 3858 | 925 | 78 |
| BALOCHISTAN | 656 | 470 | 176 | 10 |
| KP | 1708 | 1147 | 472 | 89 |
| ISLAMABAD | 223 | 185 | 26 | 3 |
| GB | 307 | 85 | 212 | 3 |
| AJK | 55 | 30 | 25 | 0 |
| GRAND TOTAL | 12507 | 8873 | 2608 | 261 |
The World Health Organization (WHO) has warned that there is no evidence that people who have recovered from the coronavirus are immune from the virus and cannot be re-infected. WHO said in a statement that there is currently no evidence that people who have recovered from the Novel coronavirus and that the antibodies in their bodies can protect them from re-infection.
Chief Minister of Sindh Syed Murad Ali Shah has inaugurated a helpline for psychological help and counseling. Citizens can dial 1093 on their phones to reach the service which is designed to give counselling related to stress and address physiological issues of the people as coronavirus is hitting biomedical and psychological points of view.
Chiniot have become the first district in Punjab province to win the war against the Novel coronavirus. According to the details, after defeating the deadly pandemic, 10 patients went home after being fully recovered.
World leaders including French President Emmanuel Macron, German Chancellor Angela Merkel and South African President Cyril Ramaphosa have joined on a video conference to launch the global push to accelerate work to fight the coronavirus pandemic.
Civil judge Naeem Sarwar has tested positive for coronavirus, the news has raised concerns in the judges' community after the reports came out. Six judges, including session judge Lahore Nazeer Butt, Shakeeb Imran have decided to conduct their tests. Names of more judges of the district court are also being considered for conducting corona tests.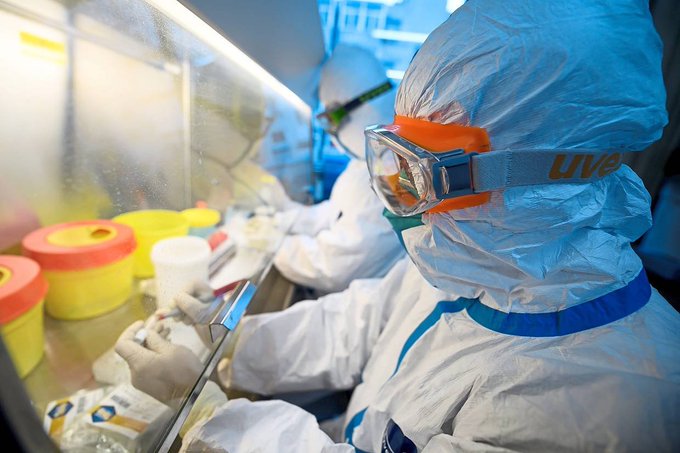 China sent second consignment of medical emergency relief consisting of testing kits, surgical and N95 masks to Pakistan to help combating against the Coronavirus pandemic, Military media wing stated here on today. According to Inter Service Public Relations, Chinese medical emergency relief consisting of testing kits, surgical masks and N95 masks arrived in Pakistan.
Three US states have permitted some shops to reopen amid lockdown. Note that the death toll has reached 51, 000 in the US. Note that the US has the highest number of confirmed coronavirus cases in the country, tally goes to 925,758 whereas 52,217 have died and 110,432 have recovered. Globally, there are 2,833,958 confirmed cases of coronavirus. out of these, 197,368 people have died whereas 807,578 have recovered. The number of active cases is 1,829,012.
Senior leader of Mutahhida Majlis-e-Amal Munir Khan Orakzai has tested positive for coronavirus on Saturday. Doctors say that Munir Khan Orakzai is being treated at the Hayatabad Medical Complex Peshawar. His condition is stable. He has been taken to the isolation ward from Intensive Care Unit (ICU).
Senior doctor Professor Dr. Mohammad Javed died after battling against coronavirus. Hospital Director Dr. Shahzad Faisal has reported that Dr. Javed was working at Peshawar's Hayatabad Medical Complex. He was an ENT specialist and was on a ventilator as he contracted Coronavirus.
The government of Pakistan introduced the "Yaran-e-Watan" initiative according to which overseas health professionals will be engaged in fighting against coronavirus in Pakistan. Prime Minister Imran Khan said in a tweet, "Pakistani health professionals are on the frontline in the fight against COVID-19 across the world. They also want to help us combat COVID19 in Pakistan. We have launched Yaran-e-Watan initiative for our overseas health professionals who can now register to volunteer their services,"
The federal government has extended the nationwide lockdown due to the Coronavirus till May 9. Asad Umar, Federal Minister for Planning and Head of National Command and Operations Center (NCOC), said during a media briefing that Prime Minister Imran Khan chaired a meeting of the National Coordination Committee and it was decided to extend prevailing lockdown till May 9.
The number of coronavirus cases in the country is increasing day by day and it is affecting not only the common man but also those who have been declared as the front line soldiers in this global pandemic. According to figures provided by the National Emergency Operations Center, at least 253 Doctors and medical workers in the country have been infected with the Coronavirus so far.
Prime Minister Imran Khan has announced to introduce trace and track system for coronavirus cases with the help of Inter Service Intelligence (ISI). Talking to reporters, PM Imran Khan said that said that has said that in collaboration with ISI, a trace and track system will be launched all over Pakistan, after which only the area where Coronavirus detects, will be locked down while business will continue in the rest.
Spokesperson Pakistan Armed Forces Major General Babar Iftikhar said that India has carried out 456 ceasefire violations since the start of the coronavirus pandemic in the country on February 26. Maj-Gen Babar stated that whenever there have been internal problems in India it has held Pakistan responsible for it.
The first confirmed case was on February 2020. The diagnostic test of a student in Karachi came positive, after the student had returned from Iran. The public has been advised to avoid all mass gatherings, including religious gatherings. All schools and universities have been temporarily closed, and both federal and provincial governments have implemented measures to contain and mitigate the spread of the virus.