Bilal Abbas, Ben Dunk interact in a humorous banter on Instagram
Pakistani showbiz's dashing actor Bilal Abbas has interacted interestingly with Australian cricketer Ben Dunk on social media.
As Bilal Abbas's film poster circulates online which shares the same surname as the cricketer, Dunk and the actor were seen in a banter.
Ben Dunk had posted the poster on an Instagram story with a caption that read,  "I have been getting tagged in this a bit today, surely the actor needs a fresh haircut," as he tagged Khan.
Quick to react with a witty reply, the Cheenkh starlet went on to reference Dunk's lack of hair in an Instagram story.
"I agree! I'm sure you can understand how difficult it is to maintain long hair," he said. However, at the same time, Khan made it clear that he was joking." Love you man. Big fan," he added more.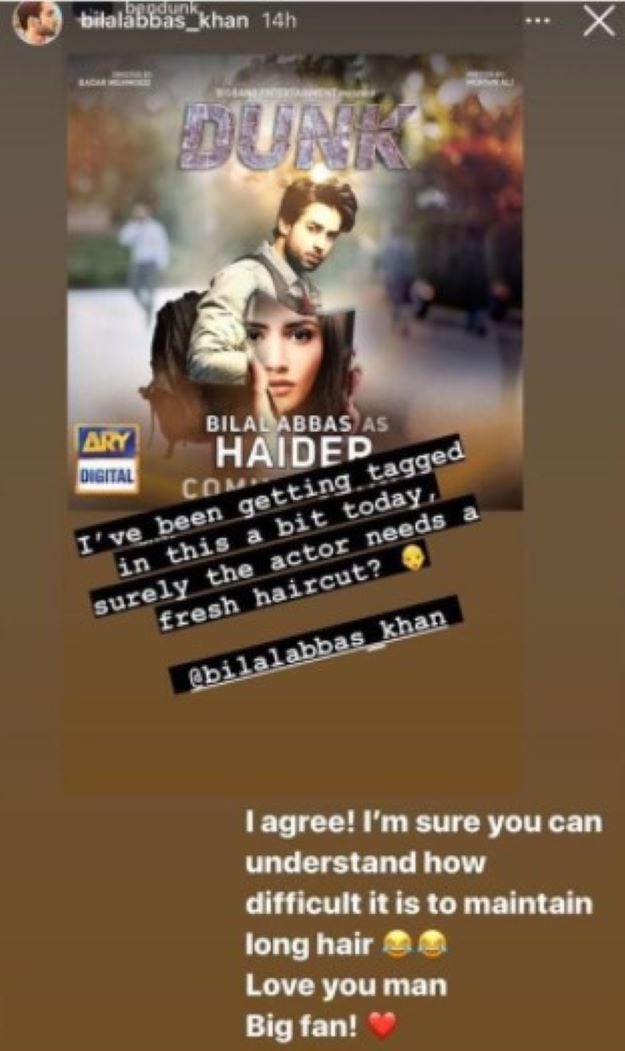 Bilal Abbas's Dunk:
In a recent interview, Bilal Abbas shared few details about his upcoming drama Dunk alongside Sana Javed in the lead role.
"I can't talk much about it, but its a very controversial topic and I know it will be discussed a lot. Although my character isn't very challenging or out of my comfort zone its a very normal character. The story is very good, team is same as that of Cheenkh, Balla, Ishqiya. But I am pretty much hopeful and excited that its gonna be a good project," he said.
The drama features famous stars including Shahood Alvi, Fahad Sheikh, Laila Wasti, Saifi Hassan, Salma Hassan, Kanwal Khan, Noman Ejaz, and Azekah Daniel.
Earlier, the actor had expressed his desire to work with Indian filmmaker Vishal Bhardwaj in future.
Bilal Abbas said that Vishal Bhardwaj has an amazing understanding of cinema and hopes to work with him in the future.
The Qurbaan actor had said, "I love watching movies and web series, be it Hollywood or Bollywood. I have seen a lot of Indian movies including the South Indian ones. They are the reason that I am an actor today," Bilal shared.
Adsense 300 x 250
---