PSL 2020 is just a day left to start and everyone is looking for buying PSL 5 tickets.
So the good news is PSL 2020 tickets are now available and you can easily purchase them. In fact, PSL 2020 final tickets are also available at a different place and online sites. If you want to receive PSL 2020 tickets at your doorstep then order your ticket online.
Here you will get all the relevant information related to PSL 5 tickets. Also, from where you can buy the cheapest PSL 5 tickets would be covered over here.  Furthermore, if you want to buy PSL 2020 tickets all free, then keep reading this article.
However, please note that the matches scheduled at night prices would be comparatively high. And the daytime matches prices would be low as the trend of night cricket has always been a great interest of Pakistani. Thereby, let us give you important information regarding Pakistan Super League 2020 tickets prices with respect to matches.
Tickets have been available for sale since 28th January for the Cricket fans at different websites. The price was also announced. Pakistan Cricket Board announced PSL 5 tickets price for 2020.
Moreover, in order to entertain the entire Pakistan PSL 2020 tickets are distributed among 38 Pakistan's cities.
Opening Ceremony PSL 2020 Ticket Price
The ticket price for PSL 5 opening ceremony ranges from 1000 to 6000 PKR.
Lahore Match Final for PSL 2020 ticket is priced from 500 – 5000 PKR
Semi Final Lahore Match for PSL 5 ticket is priced from 500 – 4000 PKR
The price is kept affordable for different classes so each Pakistani can enjoy the Pakistan Super League 2020 to their fullest. Like before, 2020 will also make amazing memorable cricket memories and increase the love for cricket of Pakistanis.
PSL 2020 Live
A total of 8 thrilling matches would be played in the biggest cities of Pakistan Karachi and Lahore. Thereby, cricket fans will get an ample amount of time and chances to witness their favorite cricket stars live playing on the pitch. Thereby, joy and excitement of cricket is amplified when it is played in one's home country so Pakistanis are super excited and eagerly waiting to witness PSL 2020 matches in the field.
Thereby, hurry up and do not miss the chance to watch PSL 2020 Live on the field. Else, all the tickets would be sold out and you would need to watch matches on TV.
 PSL 2020 TICKETS
The PSL 2020 tickets selling were started till the start of February. However, you still have time and you can buy tickets. If you don't get the ticket for PSL 2020 opening ceremony then buy tickets for advance matches now.
PSL 2020 Tickets For Opening Ceremony
Some renowned stars including Rahet Fateh Ali Khan, Aima Baig, Sanam Marvi, Abrar-ul-Haq, Sajjad Ali and Soch the rock band will perform at the opening ceremony. These stars' performance along with PSL 2020 craze will heighten the fascination and attraction of the PSL  2020 opening ceremony. Surely, it would be a grand evening worth attending.
None would want to miss it out and everyone is eager to get the ticket for PSL 2020 opening ceremony. Its price ranges from 4000 PKR to 8000 PKR.
Best Read: PSL 5th Edition-350 Artists to perform in the opening ceremony
Furthermore, the opening match is between Lahore Qalandars Vs Islamabad United.
The grand evening would be full of enthusiasm, love, joy, fun and stress as well. Because the peak moments of match always gives Pakistanis goosebumps.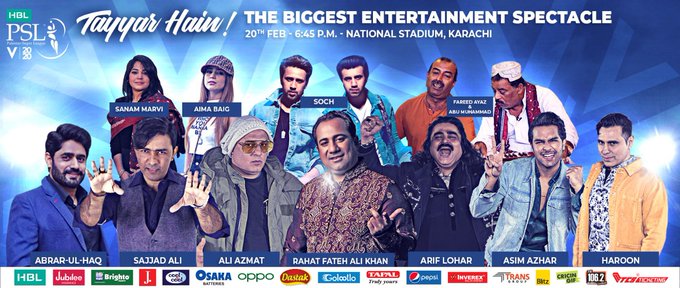 Retailers Selling PSL 2020 Tickets
You can also buy the tickets for the PSL 2020 from different retailers. However, know that these retailers are only in Karachi and Lahore where the live matches would be played. You can get the tickets from TCS Express as well.
PSL 2020 Ticket Price in Karachi
The final would also be played in Karachi and the price for ticket starts from 500 and goes till 3000 PKR.
Also Read: Asim Azhar Apologizes To Fans For Unsatisfactory PSL 2020 Anthem
#HBLPSLV to carry total prize money of US$1millionhttps://t.co/p0UnizWvGP#TayyarHain

— PakistanSuperLeague (@thePSLt20) February 18, 2020
PSL 2020 Final Ticket
The final match is always much more excited than other matched and it would be played in the city of lights Karachi. Karachities would be getting the chance of around 5 matches as 5 matches will be played in Karachi at the National Stadium.
However, final would be held on 17th March 2020.
Thereby, the most in demand match of PSL 5 final and its ticket are making people craving to get the tickets. Also, with the heavy demand, the price of PSL 2020 final is talking to skies. Let's see who can afford this ticket.  For General enclosure the ticket price is 1000 PKR.
For first-class you can get the ticket for 4000 PKR
Premium ticket price is 12000 PKR
Apart from their high prices, you still need to hurry to get tickets before they are sold. As entire Pakistan is looking for buying tickets and National Stadium is not that much spacious.
Must Read: PSL 2020-PCB hires commentators for commentary in Urdu
PSL 2020 Online Tickets
You can also get the tickets for PSL 2020 from different online websites like Yayo.com and many else. You have various options for making a purchase online as you can pay via your credit card. Else, you can also pay in cash when the ticket is delivered at your place.