The social media platform Instagram has introduced hashtags to mark the Muslim religious month of Ramadan.
Instagram, video-sharing social networking service, has introduced the hashtags #MonthOfGood, #MonthofGood guide which aimed to spread the positive message during the holy month of Ramadan.
❤️❤️❤️ https://t.co/sEMxqkmIui

— Instagram (@instagram) April 23, 2020
Instagram said in a statement, "Over 2 billion people observe Ramadan, making it one of the biggest global cultural moments of the year. People from all over the world come to Instagram to share their experiences and celebrations during the month of Ramadan, and there were over 16 million uses of the word 'Ramadan' on Instagram in 2019 alone."
"It can be something as simple as giving thanks to healthcare professionals, posting a positive comment, or hosting a virtual iftar to bring together friends and family from around the world," Instagram added.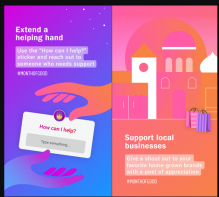 Users from all over the world will share their thoughts and feelings on Instagram during Ramadan,  by using the hashtag that has been introduced.