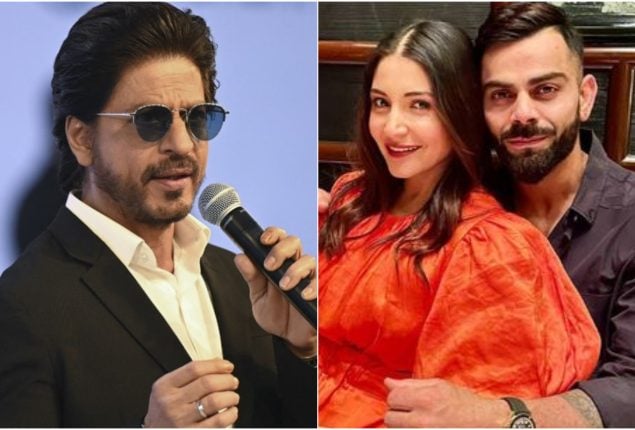 Shah Rukh Khan called Virat Kohli his "son-in-law" in a recent Ask SRK session.
Shah Rukh Khan also talked about his upcoming movie "Dunki" during the Ask SRK session.
He said that the movie is done and very beautiful, and it's a little bit like life itself.
During a recent Ask SRK session, Shah Rukh Khan shared his affection for cricketer Virat Kohli, calling him "like his son-in-law." This reference was to his frequent co-star Anushka Sharma, who is married to Virat Kohli.
When a user asked Shah Rukh Khan about his thoughts on Virat Kohli, SRK responded "I love @imVkohli he is like my own and I pray always for his well being….bhai damaad jaisa hai humaara (Bro is like our son-in-law)!!!"
Shah Rukh Khan is playfully calling Virat Kohli his "son-in-law" because Virat is married to Anushka Sharma. Anushka began her acting career alongside Shah Rukh Khan in the 2008 movie "Rab Ne Bana Di Jodi."
They later acted together in films like "Jab Tak Hai Jaan" in 2012, "Jab Harry Met Sejal" in 2017, and "Zero" in 2018, with the last two being produced by Shah Rukh Khan's own production company, Red Chillies Entertainment.
Shah Rukh Khan started the Ask SRK session last Wednesday during a break from his film shoot.
He posted a message on X, "Away shooting. Been told call time is a bit later. So think can do a faasssttt #AskSRK with u all if u are also free like me! Let's start and ask for anything….oops ask anything!!! I mean."
When a fan inquired about the progress of his upcoming movie "Dunki" directed by Rajkumar Hirani, Shah Rukh Khan responded, "#Dunki is done and very beautiful. A little like life itself!!" When another fan asked if Dunki would have action like Shah Rukh's last two films, Pathaan and Jawan, Shah Rukh wrote back, "#Dunki is all funny and emotional. It's Raju sirs world mere bhai. Thoda sa action maine daal diya hai…pata nahi sir rahein na rakhein….woh editor bhi hain na (I've slid in some action. Not sure whether Raju sir would keep it or not. He's also the editor no)!!!"
A fan inquired if the movie "Dunki" is still set to release this Christmas as originally planned, especially since Prashanth Neel's action film "Salaar," featuring Prabhas, is also scheduled for the same date.
Shah Rukh wrote, "#Dunki Fixed hi hai. Aur kya karoon Maathe pe gudwa loon (Dunki is fixed. Should I engrave it on my head or what)!!!!!"
Shah Rukh Khan wrapped up the session when Rajkumar Hirani jokingly mentioned that he was waiting for him to finish in the bathroom. Additionally, the director hinted that he's preparing to release the trailer for "Dunki."
He wrote, "Sirji ab bathroom se bahar aa jao. Kya kar rahe ho? Trailer dikhana hain (Sir, please get out of the bathroom now. What are you doing? I want to show you the trailer (of Dunki). #AskSRK"
Shah Rukh Khan replied, "Oh Sh#%. Coming sir…doston se baat kar raha tha (Was talking to friends)!!! Sorry boys and girls have to rush now. Varna #Dunki se nikaal denge (Or I'll be kicked out of Dunki)!!! Thanks for ur time boys and girls. See u in the theatres very very soon. Love u all. So much to do less time to talk to you….Muah."
The movie "Dunki," which features Taapsee Pannu, is written by a team including Rajkumar, Abhijat Joshi, and Kanika Dhillon.
Also Read
To stay informed about current events, please like our Facebook page
https://www.facebook.com/BOLUrduNews/.
Follow us on Twitter
https://twitter.com/bolnewsurdu01 and stay

updated with the latest news.
Subscribe to our YouTube channel https://bit.ly/3Tv8a3P to watch news from Pakistan and around the world.
Advertisement
Read More News On
End of Article